Dr. Norbert Hahn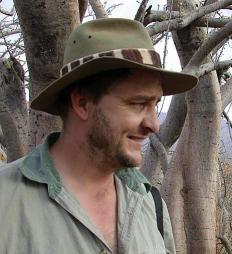 Curator of the Herbarium Soutpansbergensis
Director ICONS (Institute of Conservation and Natural History of the Soutpansberg)
Biologist resident in the Soutpansberg for over 20 years. Has undertaken many scientific studies within the Soutpansberg and southern Africa mainly focussed on botany, biogeography and related disciplines. The results of these studies are published in books, peer reviewed journals and other sources. I have also conducted many surveys for various companies and University's relating to botany within the Limpopo Province.
Presently employed by the North West Department of Economic Development, Environment, Conservation and Tourism under a three year contract as Biodiversity Specialist: Botanist looking at the Rare, Endangered and Endemic flora of the Province
Academic qualifications
MSc Botany: Endemic Flora of the Soutpansberg
PhD Botany: Floristic diversity of the Soutpansberg, Limpopo Province, South Africa
E-mail: Norbert Hahn
Resent Publications
MOSTERT, T.H.C. BREDENKAMP, G.J., KLOPPER. H.L., VERWEY, C., MOSTERT, R.E. & HAHN, N. 2008. Major Vegetation Types of the Soutpansberg Conservancy and the Blouberg Nature Reserve. Koedoe, in MS.
HAHN, N. & BREDENKAMP, G.J. 2007. Lamiaceae. Rabdosiella leemannii, a new species from the Limpopo Province of South Africa. Bothalia 37(1): 37–40.