Dr. S.H. Foord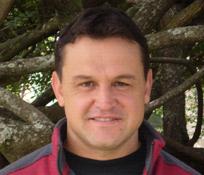 Comprehensive CV
Senior Lecturer (Department of Zoology, University of Venda)
Academic qualifications
BSc honours Zoology
MSc Zoology
PhD Zoology
Email: Stefan.foord@gmail.com
Tel: +27-15-9628492
Research programme
Dr. Stefan Foord's research focuses mainly on arachnid systematics, ecology and conservation. He is author and co-author of eleven publications. He is a senior lecturer in the Department of Zoology, University of Venda, and a core research team member of the DST-NRF Centre of Excellence for Invasion Biology (http://academic.sun.ac.za/cib/).
Departmental students currently under supervision
BSc Hons
A. Mboyi. Are we doing enough? An evaluation of the National Survey of Arachnida sampling protocol.
T.M. Ramantswana. Spiders along a north-south transect over the Soutpanberg mountain Limpopo Province – baseline data for a long-term ecological project.
MSc (Research)
M.M. Muelelwa. Spiders as biodiversity surrogates – a test of their utility in the savanna biome. M. Mafadza. Micro-scale heterogeneity of spiders in the Western Soutpansberg, a comparative survey and inventory in representative habitats.
Recent Publications
2008
Foord, S.H. 2008. Cladistic analysis of the family Hersiliidae (Arachnida Araneae) of the Afrotropical Region with the first records of Murricia and the description of a new genus, Prima, from Madagascar. Journal of Afrotropical Zoology 4: 111-141.
2006
Foord, S.H., Dippenaar-Schoeman, A.S. 2006. A species of Hersili Audouin Araneae: Hersiliidae). Zootaxa 1347: 1-92.
2005
Dippenaar-Schoeman, A.S., Van den Berg, A.M., Van den Berg, M.A. Foord, S.H. 2005. Spiders in avocado orchards in the Mpumalanga Lowveld of South Africa: species diversity and abundance (Arachnida: Araneae) African Plant Protection 11: 8-16
Foord, S.H., Dippenaar-Schoeman, A.S. 2005. First records of the genus Neotama Baehr & Baehr Araneae Hersiliidae from the Afrotropical Region. African Invertebrates 45: 125-132.
Foord, S.H., Dippenaar-Schoeman, A.S. 2005. A revision of the Afrotropical species of Hersiliola Thorell and Tama Simon with description of a new genus Tyrotama Araneae Hersiliidae) African Entomology 13: 255-279.